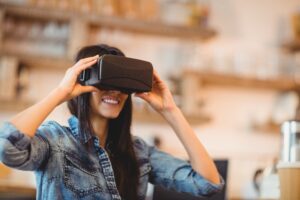 Virtual reality is finding a home in more than just the gaming industry—it's quickly proving its worth in the health and wellness realm, too.
Historically, industries within healthcare have been slow to adapt to modern technology standards due to numerous hurdles posed by regulatory requirements and government approval. But while the rate of adopting new tech gradually picked up speed amongst health and wellness companies prior to 2020, the pandemic drastically increased the necessity to become relevant and serve consumers in more personalized ways. This brought forth a wide variety of technologies to transform healthcare's status quo today.
Virtual reality (VR) technology is an emerging innovation that has the potential to significantly alter the way health professionals operate. Although the emerging tech may have been viewed as exclusive to the entertainment sector in years past, recent strides in its capabilities are now allowing headset peripherals to make a splash throughout the wellness realm. Here are five areas where virtual reality is becoming the next big breakthrough to promote consumer health in 2022 and beyond.
Physical Therapy
For those suffering from injuries, chronic pain, or other debilitating conditions that place restraints on physical movement, the act of performing motions and stretches as instructed by a physical therapist can often be challenging. Not only does a therapist need to accurately describe the treatment, but the patient must also be physically and cognitively capable of completing the movements themselves to see any improvement.
Virtual reality offers the ability to "trick" patients into performing therapeutic movements naturally through different activities and games within a headset. In order to accomplish the goals set within the VR software, a patient will necessarily test out different positions and conduct full ranges of motion without thinking about it, leading to better results for physical recovery. REAL System, for example, uses a selection of VR programs to help facilitate the physical and mental rehabilitation and is marketed directly for therapist use.
Reducing Fear
On the cognitive front, virtual reality has been utilized to help patients take their minds off of treatments or procedures that may induce anxiety and fear. In one instance, a clinic introduced virtual reality goggles to children which granted them calming views of an ocean while receiving a flu shot. Surveyed parents and kids reported a 48% decrease of pain and 52% decrease of fear thanks to the VR distraction.
But on a deeper note, virtual reality also has the potential to ease the minds of patients fearful of death or grieving lost loved ones. A fascinating study conducted in 2017 allowed subjects to customize a first-person avatar which they had complete control over through a headset. After establishing "ownership" of the virtual body, the subjects' view was lifted up into the air, allowing the body to be visible from above and simulating an out-of-body experience. The study's experimental group was then shown to be much less fearful of death compared to a control.
Stress Relief
It's easy enough to find apps on mobile devices that help bring about a meditative state of mind when stress levels are high, but some companies are working with virtual reality headsets to take things a step further.
Thanks to the unprecedented immersion virtual reality affords, subjects can find themselves able to escape the stresses of life more easily by virtually experiencing peaceful scenery and soothing music. The applications are so great, in fact, that healthcare professionals and business professionals alike are finding use for VR meditation.
PIXO's Solas VR is a great example. The software is marketed specifically to employers as a means to improve employee mindfulness through virtual meditation, interactive breathing exercises, and even engaging training sessions relating to the job. Considering work-related stress is at an all-time high these days, marrying innovative technology with a greater emphasis on mental wellness is a natural and attractive fit for many companies.
Exercise and Fitness
Technology is no stranger to the fitness realm. Many gym-goers are likely already aware of the many exercise wearables and peripherals available to enhance the tracking of goals, diets, and steps. But beyond the smart watches and exercise apps, virtual reality is rising to expand the definition of physical wellness even more.
Most personal VR headsets will feature large selections of workout-inspired apps and games to bring fun fitness activities and programs to consumers from the comfort of their homes. FITXR, for example, is a VR software that features fully customizable workout routines that can be performed together with other VR users remotely, acting as a great social solution for lonely exercisers after COVID brought many gyms to a close.
But VR exercise doesn't have to stem solely from dedicated fitness apps. Dubbed "accidental" exercise, many VR games that involve excessive movement have been receiving attention as engaging exercise alternatives. Perhaps one of the most popular to date is Supernatural, a boxing-inspired action game that provides fast-paced combat simulation combined with meditative stretching exercises led by fitness coaches. To some, this is the most accessible exercise has ever been.
Patient Education
It's easy to see how virtual reality stands to offer much more engaging experiences than standard entertainment, but some clinicians prefer to think outside the box in terms of patient experience.
Health literacy and patient education represents an area of healthcare that is sorely lacking in innovative flavor. Seating patients in monochromatic rooms to watch uninspiring DVDs about their upcoming procedure is a thing of the past in the eyes of many physicians.
Instead, companies like Sharecare are creating virtual reality solutions for practices to enhance their patients' knowledge of the body. By simulating the human body and its different functions through VR software, patients can explore their conditions and develop a better understanding of how a specific procedure will practically affect their health. This not only improves the office experience, but also instates better confidence in patients thanks to the ability to see the planned result of an operation or treatment for themselves.
Virtual reality stands to augment different sectors of health and wellness through highly interactive experiences and engaging visual stories that create a context for real world goals. As it continues to gain favor for use in professional settings, health and wellness companies should strongly consider the untapped potential such experiences could bring to their own audiences.